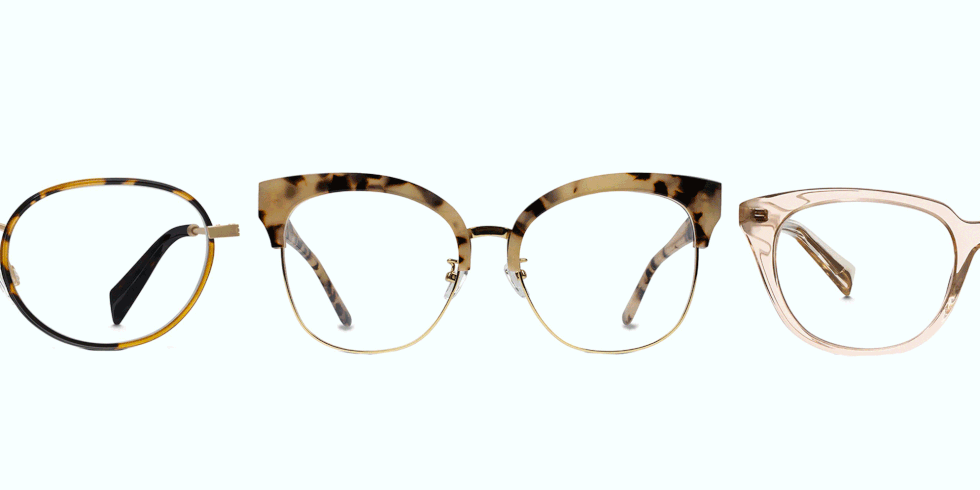 Anyone who wears glasses is familiar the drill: You complete the eye exam, choose a pair of glasses, talk insurance, and cough up hundreds of dollars. It's not exactly a glamorous process. But there is another way! Shopping online for your new specs has become so much easier in the past few years, and not to mention shockingly affordable in comparison. We've made it even simpler by rounding up the best sites here, from specialty brands to discounted big-name designers.
Vint & York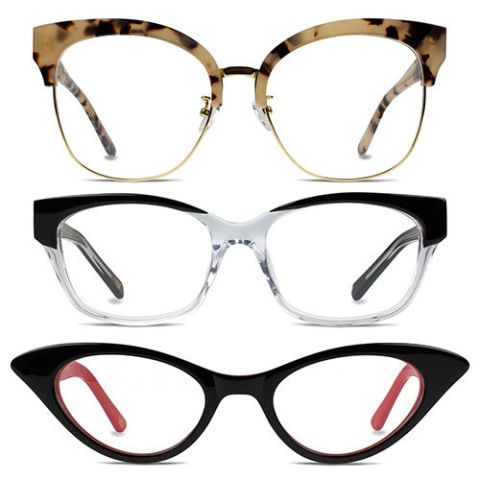 From top: $149, vintandyork.com ; $109, vintandyork.com ; $109, vintandyork.com

For truly unique glasses that are also a great value, you'll love Vint & York. The designs are inspired by the 1920s, as you'll notice by the quirky style names (like Zelda, Snazzy, and Dapper), and are ideal for making a statement with your eyewear. The price includes prescription lenses, anti-reflective coating, anti-scratch coating, and even free shipping. We love their sunglasses too!
GlassesUSA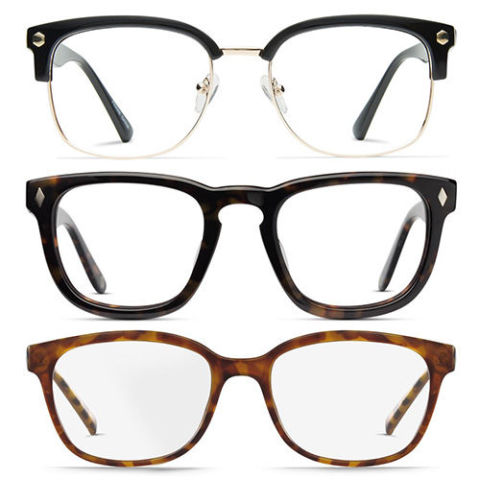 From top: $89, glassesusa.com ; $89, glassesusa.com ; $68, glassesusa.com
GlassesUSA is the one-stop shop for a little bit of everything. They carry both designer and discount frames, so there's pair that fits every budget. The site also features a fun try-on system that lets you upload a picture, choose your frames, and then virtually preview how the style will look on your face.
Article One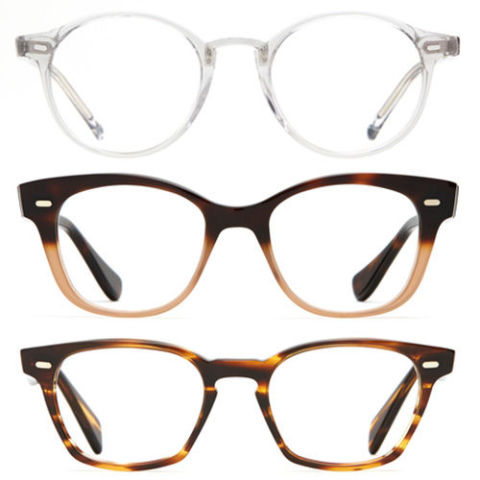 From top: $250, sportique.com ; $250, sportique.com ; $250, sportique.com
If you're looking for designer frames that have a little more flair, then check out Article One. Their luxe frames feature tons of cool variations on tortoise (but still have a classic feel), and are all handmade in Italy. Even better: They donate a portion of every purchase to the Helen Keller International organization. They also make some pretty chic sunglasses! This collection supports the Flint, Michigan water crisis.
Warby Parker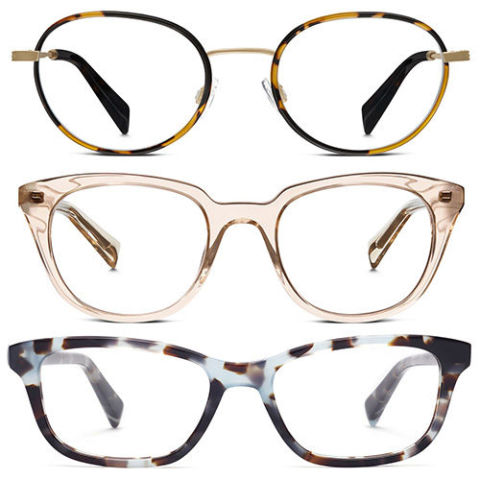 From top: $195, warbyparker.com ; $95, warbyparker.com ; $95 warbyparker.com
You can't talk shopping online for glasses without mention of Warby Parker! They're the pioneers behind fashionable frames at an affordable price. Most pairs start at just $95 (including lenses), and with their at-home try-on system, you can test out up to five pairs for free. Plus, their selection is always on-trend. You can also feel good about your new glasses, because with every purchase, a pair will be distributed to someone in need.
Coastal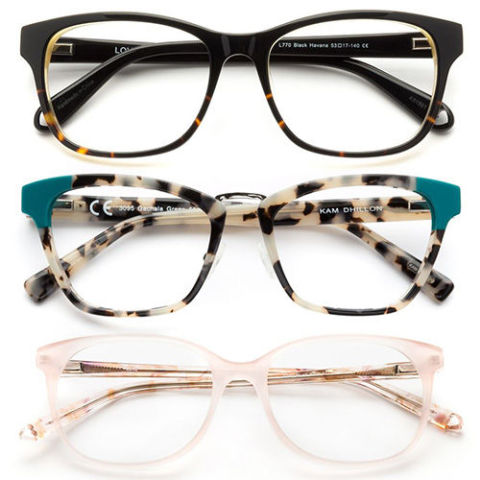 From top: $65, coastal.com ; $85, coastal.com ; $65, coastal.com
Coastal combines designer names with their own in-house brands to bring you an extensive selection all in one place. Don't worry about getting overwhelmed though, because their MyFit system uses the dimensions of your current glasses to show you the best options for your face. There's plenty of both quirky and classic options, all at a great price, and they'll even give you a credit when you donate an old pair.
EyeBuy Direct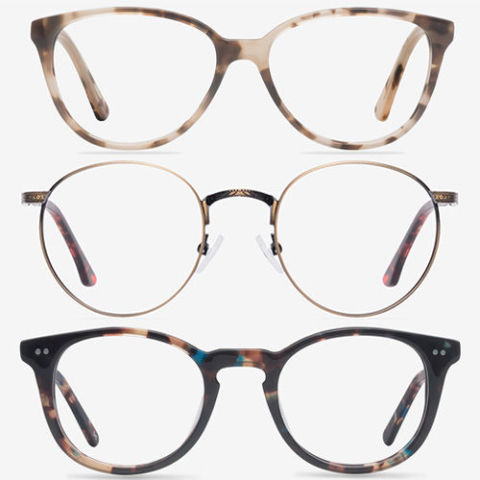 From top: $39, eyebuydirect.com ; $32, eyebuydirect.com ; $70, eyebuydirect.com
If you're on a tight budget but still want something fun and trendy, then don't miss EyeBuy Direct. Their glasses start as low as $6 (seriously) and go up for each lens customization. This is also a great option if you're looking to expand your collection to a second or third pair. Now you can fearlessly try out a new color!

Eyewear Connection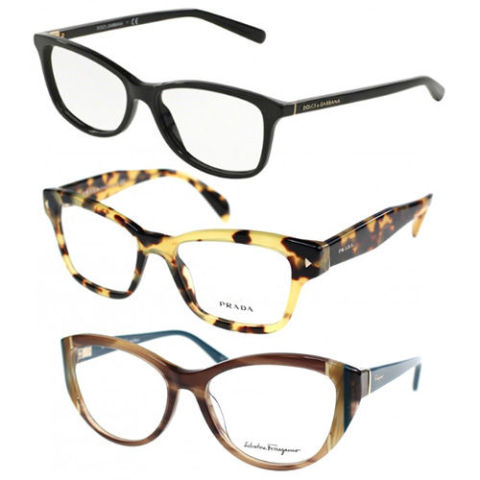 From top: $114, eyewearconnection.com ; $152, eyewearconnection.com ; $188, eyewearconnection.com
With Eyewear Connection, you can forget about paying full price for designer names. Scoop up your dream glasses for less with their selection of Prada, Chloe, Dolce & Gabanna frames and more! The price doesn't include the cost of lenses, but even so, you'll still save hundreds compared to shopping at a brick-and-mortar boutique.